YOU CAN'T PUT A PRICE ON A HEALTHY BACK.
The spine and back supports us in our daily life. Chronic back problems are bad for long term health! Our Lumbar Belt reduces the constriction on pinched nerves (such as the sciatic nerve) which reliably relieves back pain & shooting leg pains.
WHY DO I NEED THIS?
Any pain coming from the spine affects us more than we know. When not treated, it affects your health and leads to mental problems like poor focus, restless nights, increased stress, reduced productivity and quality of life.
HOW IT WORKS?

The Decompression Belt stretches and retracts the lower back as it inflates with air. This gentle traction help decompress the spinal discs and relieves pressure of pinched nerves, degenerative, herniated and bulgin dics. It also permits herniated and bulging discs to return to their normal position and condition.
WHAT DOES IT SOLVE?
✔ Relieving Back Pain
✔ Improving Posture
✔ Stabilizing the Lower Back
✔ Stretching tight Muscles

✔ Improving Core strength
Keep enjoying daily activities without restricting yourself. The belt is flexible and does not restrict muscle movement. Quickly put on and inflate to provide excellent support & optimal relief while walking, driving, doing errands around the house, or just relaxing on a chair!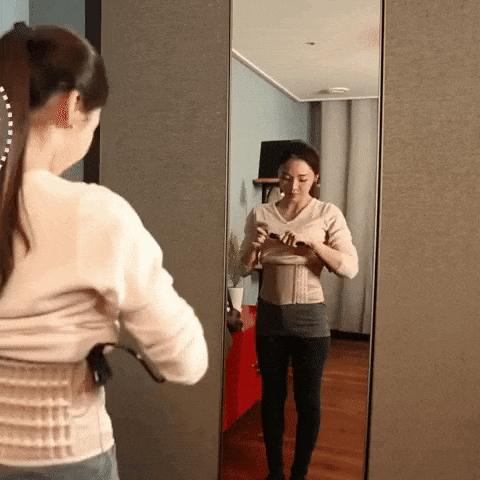 USED BY PROFESSIONALS
Back Decompression is a proven technique endorsed by medical professionals and used in both upper & lower back pain treatment. Enjoy the benefits of the same therapy chiropractors use to decompress the spine and relieve back pain instantly from the comfort of your home!
FREQUENTLY ASKED QUESTIONS
"Will this weaken my back muscles?"
No it will not! Our belt is not made out of super stiff material that will keep your posture locked in place like a cement vest. It is an aid which reminds you to maintain the correct posture and helps your muscles develop the strength over time.
"How long do I have to wear the belt?"
Your body will not be healed of all pain right away, so its better to use the belt for a little while. It is recommended to use the belt daily for minimum of 30 minutes a day. Most of our customers achieve great success wearing it 2-4 hours at a time.
"Can I wear it under my clothes?"
Yes! Decompression Belt 2.0 is designed to be sleek so that it fits under shirts or clothing, so you can be wearing it in public without people noticing. But for maximum comfort, consider wearing it over clothing.
"What is the size of the belt?"
It ranges from 29 inches (75cm) to 55 inches (140 cm). For larger sizes, we also include an additional extension strap.
WHAT'S INCLUDED?
1

x Lumbar Decompression Belt 2.0

1x Hand Air Pump

1x Extension Belt

1x English User Manual

1

x Carry Bag
BUY NOW WITH NO RISK!
Customer satisfaction is our number one priority - and we mean it. Not satisfied with your order? No worries! Let us know within 30 days and we will give you a STRESS-FREE refund.